Neighborhood History...
South Armatage Neighbors...committed to community. Working together, our goal is to make sure South Armatage remains a safe, attractive and fun place to live.
Dead river valley (looking south) view from Prospect Hill (Witch's Hat Tower by Hwy 94/Mississippi river)-Suburban residence of W.L. Bowser-Richfield Township
Armatage was not always known as Armatage and in fact has a rich history preceding the neighborhood as we know it today. To tell the story of Armatage we need to look back before it was a part of Minneapolis to a time it was part of what is now known as Richfield. The history of our neighborhood really is the history of Richfield and the founding settlements that preceded it and so the story begins.
In the Beginning
The first known inhabitants in the land that eventually made up the Armatage area were, first the Ojibwa, and later, the Dakota Indians. The area of Richfield and land west of the Mississippi came under French leadership in 1793, but was purchased by the United States in 1803 as part of the "Louisiana Purchase."
To strengthen claims on the new frontier, Lieutenant Zebulon Pike was sent to survey the land and choose a site for a new military post. Part of Richfield was included in land purchased in 1805 by Lt. Pike for the military reservation for $2,000 in goods which they received 14 years later. No action was taken on establishing a fort until after the War of 1812, when fearing British intrusion on U.S. territory claims the U.S. government sent troops lead by Col. Josiah Snelling to construct Fort St. Anthony (later renamed Fort Snelling) to protect the strategic resource of the Mississippi/Minnesota River waterways. After Fort Snelling was established in 1820, because of the security provided by the fort, settlers began arriving by steamship and eventually settled a town east of the fort called "Pig's Eye" later renamed "St. Paul."
Colonel Josiah Snelling and his officers and soldiers left their imprint on the area. They built roads, planted crops, built a grist mill and a sawmill at Saint Anthony Falls which is now known as Mills Ruin Park, and mediated disputes between Dakota and Ojibwe. Meanwhile, tourists, government officials, settlers, and immigrants from Lord Selkirk's unsuccessful colony in Canada started settling in the vicinity of the fort.

Medicine Dance of the Sioux or Dakotah Indians on the St. Peters River near Fort Snelling
Painter: Seth Eastman (1808-1875)
However, because land that made up Richfield was both part of the Dakota Territory and part of the government reservation any settlers were forcibly removed, including several Swiss settlers from the Hudson Bay territory, under the leadership of Louis Massey.
Settlement of Richfield would not begin until 1851 when the U.S. government forcibly encouraged a new treaty with the Dakota Indians which ceded much of the land that made up the territory of Minnesota and also in 1852 when much of the land that made up the military reservation was released from Federal holdings. The Richfield area was rapidly settled (all the land was claimed within a year) predominately by farm families at that came from the eastern United States, Germany, and Ireland. The first claim was made by J. R. Brown on Minnehaha Creek. Many of the original settlers came north along the Mississippi river in what is known as The Grand Excursion which was a voyage by train and steamboat into the Upper Mississippi River valley that first took place in June of 1854.
Early Settlement History
The area was informally known as "Richland" and "Harmony" before its incorporation as Richfield Township in 1849. On May 11, 1858, when Minnesota was admitted as a state in the Union, the residents of this area held their first town meeting. In recognition of the excellent farming land from which they largely drew their livelihood, they officially adopted the name of Richfield. Richland was suggested as a name but was voted down. "Richland" was derived from "Richland Mills" an early mill located at what is now Lyndale and Minnehaha Creek. The postmaster James A. Dunsmoor had named his home at 53rd and Lyndale "Harmony" so the name "Harmony" was used by the government as the post office designation for this area.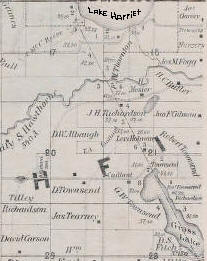 circa 1873 map (Courtesy MNHS) (Notice Grass Lake in lower right corner was much larger back then)
Richfield Township was developed out of three different communities: the first, Richfield Mills, lying outside the boundaries of Edina, served as a trading center and the township seat; it had a gristmill and a store.

The second a few miles west on Minnehaha Creek was Waterville Mills (Edina Mills) with a mill erected in 1856 and sold to Andrew Craik in 1869, a Scottish immigrant from Canada who renamed the enterprise Edina Mills, with a post office, 1881-1902. The area was settled by a sizable foreign-born group dominated by emigrants from Germany and the British Isles. Yankees and Scots are credited in particular with forming the ethnic flavor of Edina Mills, which was in fact really not so much unlike other rural hamlets founded in Minnesota during the mid-nineteenth century.
Minnehaha Creek, Minneapolis (possibly at site where Penn Avenue now crosses the creek)
Ca. 1880-1890


The third, Cahill Settlement, was established in the 1850s by Irish immigrants who provided the greatest proportion of the initial settlers in the southwestern part of the Richfield area. The distinct rural farming neighborhood known as the Cahill settlement coalesced between the 1850s and 1870s and retained a post office named Cahill for the period 1894-1902. The name was derived from the flour mill owned by Andrew and John Craik, who so named the mill in memory of their boyhood home, in or near Edinburgh, Scotland. The Roman Catholic religion dominated life and culture. Settlement and land use reflected the predominant Midwestern patterns; despite the twentieth century emphasis on suburbanization, agriculture remained an important element in the landscape of the Cahill community until the 1930s.
Among the earliest settlers of the area was Riley Bartholomew, a former General in the Ohio Militia, who became a Richfield Justice of the Peace and a Minnesota State Senator. General Bartholomew built a home on the east shore of Wood Lake in the spring of 1853.
Richfield incorporated as a village in 1908. Along the way, Richfield lost a considerable portion of its original area. Two annexations by Minneapolis in the 1880s plus another in 1927(Armatage area becomes part of Minneapolis but not aptly named as of yet.) set the present northern boundary at 62nd Street. 1.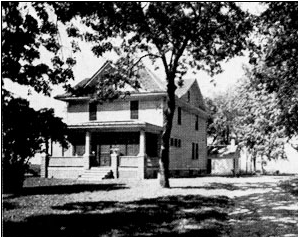 Local home possibly 61st and Penn Ave S
Agricultural Society
The first big crops grown in Richfield were wheat and potatoes, and in 1880 cows and sheep outnumbered people. Later, truck farming for the local Minneapolis/St. Paul market became quite important. Many crops were originally supplied to Fort Snelling but in later years the produce was shipped to Minneapolis for sale.
Geography
Geographically, the area of Richfield included nearly 30 lakes (many now drained) including Wood Lake, Lake Amelia (Lake Nokomis), Lake Harriet, and Lake Calhoun. The central portion of the Richfield was traversed by a sandy belt which produced copses of small oaks and aspens. The northern portion was well timbered with elm, bass, maple, and "trees of larger growth." The south-eastern part, bordering on Fort Snelling and extending as far west as Wood Lake, was prairie.
Annexation-The neighborhood becomes Minneapolis
In 1927 the people living between 54th Street and 62nd Street petitioned to join Minneapolis and were annexed by the city. The southern boundary of Minneapolis was moved to 62nd Street. Some Richfield industry, as well as the old village hall at 62nd and Lyndale Avenue and two school houses were lost to Minneapolis as a result of the annexation of the land they were on.
Armatage Neighborhood is born
Armatage Park is named in honor of Maude D. Armatage. Armatage was a MPRB Commissioner for 24 years and chairperson of the Committee on 'Playground and Entertainment'. The 17 acres of parkland was purchased in 1948 for $7,500. The Armatage Neighborhood sprang up around the park as initial development of the land in 1952 changed the area to what we now know. In large part Veterans from World War 2 settled in the area post war and spurred the rapid development.
Maude Armatage ca. 1925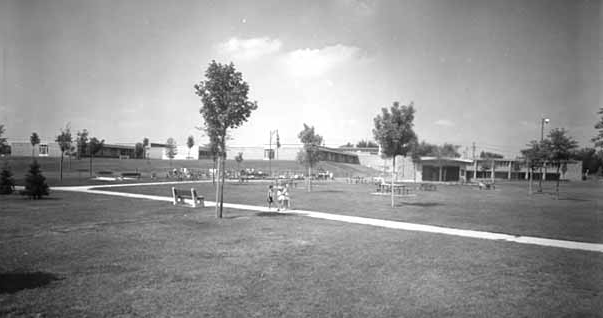 Armatage Park ca.1958
Starting in 1997 Armatage Park has undergone many new renovations including a parking lot, gym, and roof repair. In 2000, Armatage Park received a new addition, an 18 foot-high bronze sculpture by artist Scott Wallace, placed at the entrance of the park. The sculpture, entitled "Garden Party," created the Armatage Neighborhood Gateway.
Timeline
1793 Area came under French rule
1803 Land was purchased by the United States as part of the "Louisiana Purchase."
1836 Minnesota became it's own territory from the Wisconsin territory.
1849 Richfield Township is settled.
1853 The Charles Haeg family settles in Richfield. They later bought a large tract of land near 66th Street and 24th Avenue.
1854 First school is built in Richfield (Wood Lake). Built by Mr. Finch, Couillard and Bartholomew, Gregory and Gillmore. First school teacher was Miss Mary Townsend.
1854 First Flour Mill built called Richfield Mills
1854 Harmony Mission church with two schools and a library opened.
1856 Mill erected at Waterville Mills (Edina Mills)
1856 Cahill Settlement was founded in area known as Edina now.
1856 Gideon and Samuel Pond set up their mission camp and school at Lake Harriet. (It was Richfield back then!). Joseph Pond builds his home at 7100 Oak Grove Blvd.
1858 Renamed Richfield from Richland
1858 Minnesota becomes the 32nd state in the union. Richfield holds it's first town meeting on May 11th. Borders of Richfield are: Franklin Avenue on the North, County Rd. 18 (169) to the West, 78th Street to the South, Minnesota and Mississippi Rivers to the East.
1859 Richfield's 2nd town meeting finds a need for a $150 budget. To pay for it, every citizen is assessed two days of highway labor and a road tax of 25 cents for each dollar of real estate value.
1869 Waterville Mills sold to Andrew Craik renamed Edina Mills
1875 Assumption Catholic Church is organized.
1876 The home 1406 W. 66th Street is built. Known by most people as the Parker Goodspeed house, it was originally built by Louis Humphey. The house has been restored and in recent years was the original home of Erik's Bike Shop.
1870 Everett Irwin's Holstein cow "Dutchess of Skylark Ormsby" broke the world record for milk butterfat content, and held the record until 1921. The Irwin farm was at 73rd and Lyndale Avenue.
1872 First officially recorded birth in Richfield.
1879 First Richfield Town Hall built at 62nd St. and Lyndale.
1881 Edina Mills post office opens
1888 Edina became a city separate from Richfield Township
1895 Bachman's nursery grows to have 150 hot beds and 11 greenhouses. Three acres are under glass.
1905 An eastern portion of Richfield was requisitioned by Fort Snelling.
1913 Richfield Town budget is $3,222.13.
1914 "Speed" Holdman builds Twin City Motor Speedway on the east side of Richfield. It is two miles long and 87 feet wide. The infield was used to land airplanes -- and in later years, the entire area was to become the Minneapolis-St. Paul International Airport.
1927 Minneapolis annexes northern part of Richfield which becomes Armatage neighborhood
1952 Armatage Community School was built
1991 Armatage Neighborhood Association (ANA) was established
Sources:
1.Excerpt from "Where We Are – the Condition of Education in Richfield – 1980"
http://www.mnhs.org/collections/
http://www.richfieldhistory.org/
http://en.wikipedia.org/wiki/Richfield,_Minnesota
http://www.richfieldumc.org/history.htm
http://www.ci.minneapolis.mn.us/stormwater/docs/LSWMPSec1-Introduction.pdf
http://www.ci.edina.mn.us/CityCouncil/HistoricContextsStudy.htm
http://en.wikipedia.org/wiki/Grand_Excursion
http://articles.gourt.com/en/Minnesota